THE FESTIVAL
Message from the artistic director
Dear music lovers,

It is my pleasure to invite you to take part in the festivities celebrating the 45th anniversary of the Lamèque International Baroque Music Festival! We may not be able to get together in person to celebrate this important anniversary, but we have nevertheless concocted a virtual program full of new discoveries, encounters between musicians and members of the public, and plenty of emotion.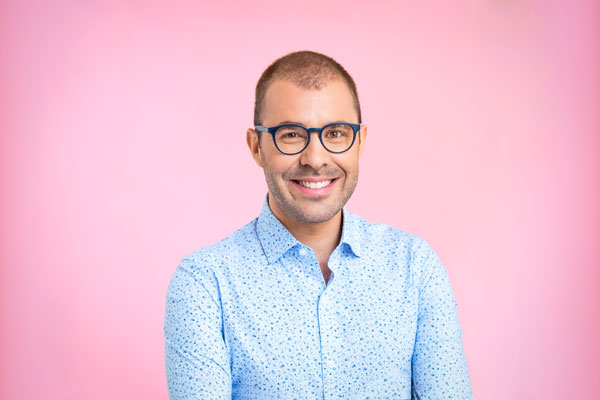 Our program includes three evening concerts, which will feature works by the famous Johann Sebastian Bach and Jean-Philippe Rameau, as well as Spanish and Portuguese composers who travelled to Latin America. For this concert series, the Festival is proud to be collaborating with Ensemble Caprice and French harpsichordists Loris Barrucand and Clément Geoffroy, who will be performing together at the Festival for the first time this year. We are also thrilled to be welcoming back several of the darlings of the Festival to perform Bach's famous sonatas for obbligato harpsichord.

The New Alliances series will present three brand new videos combining early music with Acadian art. These projects will offer you a chance to discover or rediscover the talent of six winners and finalists from the Mathieu-Duguay Early Music Competition, as well as works by painter Louise LeBlanc and poet Martin Roy. The first concert in the series will focus on two new works for soprano, recorder and harpsichord from composer Jérôme Blais. These pieces are musical settings of poems by Acadian authors Herménégilde Chiasson and Georgette LeBlanc.
In addition to these concerts, we will also be hosting meetings and discussions with the artists, giving the public a chance to learn more about their art and the music they perform.
We hope you will join us for this unique 45th anniversary celebration. We are delighted to share with you this baroque music we love so much, and look forward to the day it will ring out on the island of Lamèque once again!
Vincent Lauzer,
Artistic Director of the Lamèque International Baroque Music Festival
Our history
The Lamèque International Baroque Music Festival is an annual festival dedicated to music from the period of 1600 to 1760, performed on period instruments. Founded in 1975 by harpsichordist Mathieu Duguay, the Festival has earned an enviable reputation on the New Brunswick and Canadian musical scenes, and even abroad. Each year, the Festival presents a series of high-calibre concerts at the end of July, making it a not-to-miss cultural event in Acadie. Most concerts are presented in churches and halls on the picturesque Lamèque Island, of which the colourful Saint-Cécile Church in Petite-Rivière-de-l'Île with exceptional acoustics.
Over the years, the Festival has proven to be one of the most interesting musical events of its kind in Canada, with concerts respecting the aesthetics of the Baroque era. Each season, the Festival presents outstanding performances on period instruments (or replicas). Its program includes vocal and instrumental selections, featuring choral works, chamber music and solo pieces by renowned musicians.
A Great Festival on a Small Island
From the seed of a single harpsichord recital in 1971, the Festival came into its own in 1975 and was incorporated in 1976. Since then, many memorable concerts have been presented in the intimate and charming settings on Lamèque Island and surrounding area.
Over the years, numerous world-renowned musicians have performed at the Festival: Musica Antica Köln, Il Tempo et Florilegium, the Studio de musique ancienne de Montréal, the Toronto Consort, excellent soloists such as Emma Kirby, Renata Pokupic, Agnès Mellon, Shannon Mercer, Karina Gauvin, and Nigel Rogers; pianofortists Steven Lubin and Andreas Steir; cellists Peter Wispelwey and Jaap ter Linden; violonist Rachel Podger, not to mention harpsichordists Geneviève Soly, Blandine Verlet, the late Scott Ross, Hank Knox, Blandine Rannou, Luc Beauséjour, and Rachelle Taylor.
Mission Saint-Charles Choir and Orchestra
The Festival's own choir and orchestra, La Mission Saint-Charles, was created in 1985 to celebrate the three hundredth anniversary of the birth of Johann Sebastian Bach. The size of La Mission Saint-Charles varies according to the needs of the music performed each year. The orchestra is comprised of professional musicians while the choir is a mix of professional and experienced amateur singers from the community. Each year, La Mission Saint-Charles presents masterworks of the Baroque repertoire for orchestra, choir and soloists, making each performance a long-awaited musical moment for concert-goers. Since its inception, La Mission Saint-Charles has been led by Hervé Niquet (France), Andrew Parrott (United Kingdom), Christoph Spering (Germany), Bernard Labadie (Canada), Rinaldo Alessandrini (Italy), and Jaap ter Linden (Netherlands), to name but a few. Furthermore, the Festival has been a stepping stone for many Acadian artists, such as sopranos Suzie Leblanc, Pascale Beaudin, and Nathalie Paulin. Between 1977 and 2017, CBC Radio was an important partner of the event, contributing even further to the Festival's renown in Canada.
Season after season, a selection of prestigious artists and a dedicated effort to maintaining high standards for its musical programming have made the Festival a prestigious event that welcomes patrons from well beyond the borders of New Brunswick. Most concerts take place in Sainte-Cécile Church which is an attraction in and of itself. Built in 1913, it was repainted in 1968 by the parish priest in a multi-coloured motif. Its wooden structure offers perfect acoustics for the music, and with its coloured interior, it makes a dramatic impression on audiences.
Board of directors
Jean-René Noël, chairman – Campbellton
Marcel Lanteigne, vice-chairman – Lamèque
Denis Ferron, secretary-treasurer – Village-des-Poirier
Marie-Anne Ferron, administrator – Lamèque
Paulette Sonier-Rioux, administrator – Pointe-Brûlée
Roseline Hébert, administrator - Lamèque
Johannes Larsen, administrator – Miramichi
Brigitte Lavoie, administrator – Moncton
Daniel Chiasson, administrator – Moncton
Team of the Festival
Vincent Lauzer, artistic director
Nathalie Stewart, administrative director